Since 1992, World Education has been working in Laos and is dedicated to engaging and empowering communities, families, and individuals through programs in mine action, education, disability inclusion, economic development, and health. World Education Laos' programs are designed to build capacity, promote self-sufficiency, and increase inclusion of all persons in Lao PDR.
Every project at World Education holds capacity building at its core. World Education aims to develop stronger systems, and enable organizations, governments, and individuals to maximize impact and mobilize funding to make lasting social change. In Lao PDR, World Education works in close collaboration with government ministries to ensure that programming is aligned with and promotes government policies and builds the skills of counterparts. With civil society organizations, World Education strives to build models for sustainability.
Contact Person:
Meredith Lunsford
Country Director:
Rebecca DERRY
Address:
World Education Laos
Phiawat Village
Sisattanak District
Vientiane
LAOS
Address (secondary):
World Education, Inc.
44 Farnsworth Street
Boston, MA 02210, USA
Email:
weilaos@worlded.org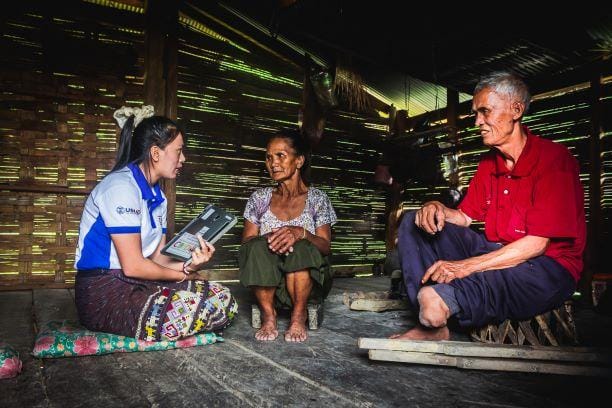 USAID Okard
Start: 01/10/2017 - End:
Funded by USAID, the Okard project aims to improve and sustain the optimized functional ability and independent living of persons with disabilities in Lao PDR. World Education is guided by the philosophy of Disability Inclusive Development (DID) and the belief that no one should be left behind and uses a gender sensitive and socially inclusive approach to development of the rehabilitation of victims of trauma and people with disabilities.

The project has three main components – 1: Health; 2: Economic Empowerment; and 3: Stakeholder Engagement, and World Education is implementing a series of interrelated and cohesive interventions that are designed to improve and sustain the independent living and functional ability of persons with disabilities with mobility limitations and their households in Lao PDR, regardless of factors such as age, sex, gender expression, ethnic origin, indigenous status or cause of impairment.

USAID Okard directly addresses the health, livelihoods, and social needs of persons with disabilities through the Community Based Inclusive Demonstration (CBID) model, where CBID facilitators utilize the developed Modular Tool to track and demonstrate tangible change in communities and the lives of persons with disabilities.
War Victims Medical Fund
Start: 01/02/2020 - End:
Between 1964 and 1973, more than 240 million cluster bomb sub-munitions were dropped in Laos. 80 million of these bombs failed to explode and continue to pose a hazard to civilians. Since 1964, approximately 20,000 people have been killed or wounded by unexploded ordnance (UXO), many of them in remote and rural areas. Medical treatment, physical rehabilitation, and mental health services are extremely limited throughout Laos, and poor communications and transport networks prevent survivors and their families from accessing services, which are concentrated in provincial capitals.

NRA and WEI staff with UXO survivor families
WEI and NRA staff present WVMF support payments to families in November 2018.

Since 1996, World Education has supported UXO survivors through administering the War Victims Medical Fund (WVMF), funded by the U.S. government. More than 1,000 UXO survivors have received support from the WVMF for their emergency and ongoing medical costs. Since July 2016, World Education operates the fund in partnership with the National Regulatory Authority, the government agency in charge of UXO issues.

The fund provides essential support to anyone injured by UXO nationwide, covering

Immediate and ongoing medical care
Surgery costs
Dental services
Assistive devices
Transportation within Laos
Accommodation during hospital stay
Food allowance during hospital stay (including two family members)
Contribution towards a religious ceremony or funeral
View the WVMF Pamphlet in English or WVMF Pamphlet in Lao for more details.
For more information about accessing the WVMF, contact the NRA hotline at 1603 or World Education at (856-21) 214524.

The WVMF does not cover the cost of other services that enable UXO survivors and their family members to sustain their livelihoods and resume their daily activities. Some victims cannot return to working on the farm and benefit from vocational training to learn a new trade. Children may need additional support to return to school. World Education works with local partners to provide these additional skills and assistance through funds raised by private donations. Please click here to make a donation. After you enter a donation amount, select "Donate to a specific project," and enter "War Victims Medical Fund, Laos" in the corresponding box.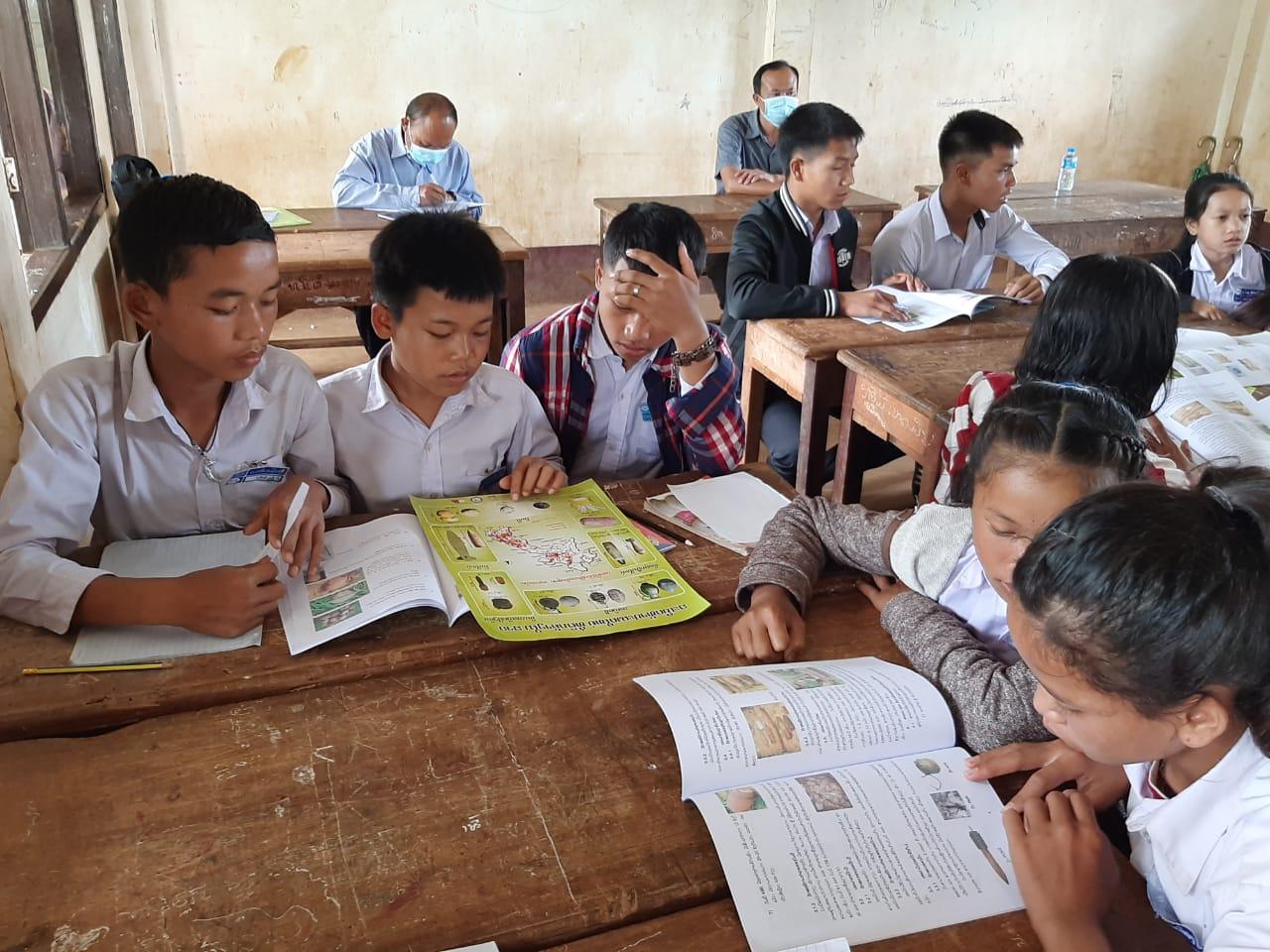 Comprehensive Mine Risk Education
Start: 01/05/2020 - End:
Funded by the U.S. Department of State, the Comprehensive Mine Risk Education (MRE) Project aims to reduce injury and death from unexploded ordnance (UXO) by informing children about how to protect themselves and their peers. World Education first began developing a primary school curriculum about UXO safety in 1996. While the number of UXO accidents in Laos has decreased significantly since that time, children continue to represent 53% of UXO casualties, demonstrating an ongoing need for targeted UXO education. Today, the project reaches young people at risk of UXO accidents through curriculum in the formal education system as well as through community puppetry performances. The overall emphasis is on supporting the Ministry of Education and Sports (MOES) to manage MRE in the future. Presently, the MRE project reaches all 88 districts in the eight most heavily UXO contaminated provinces in Laos. Project activities include:
• Supporting MOES to integrate MRE into the national primary school science and environment curriculum. This will enable over 500,000 children in 5,820 primary schools to receive messages about UXO safety through participatory learning, storybooks, songs, and posters.
• Developing a new handbook for teaching MRE in secondary schools.
• Ensuring 3,800 student teachers in the eight Teacher Training Colleges throughout Laos will learn how to teach MRE.
• Enabling 220 student-led puppetry troupes to disseminate MRE to thousands of fellow children and community members throughout Laos.

To disseminate MRE, the Project facilitates Trainings of Trainers (ToTs) to teach in-service teachers how to utilize the MRE curriculum in their classrooms. World Education also works closely with the eight Teacher Training Colleges of Laos (TTC) to develop MRE teacher training materials, support professors to teach MRE, include MRE in summer refresher courses for in-service teachers, and ensure all final year TTC students are prepared to teach MRE.

To complement the in-school MRE, the MRE puppetry program involves children and teachers from high-UXO risk communities to develop puppetry performances to bring the education about UXO out of the classroom and into communities. In 1999, World Education contracted the National Puppet Theater of Laos to train teachers to establish the first MRE puppetry troupes in Xieng Khouang, Houaphan, Savannakhet and Saravane Provinces. World Education has since worked with MOES to establish 88 troupes, reaching between 70,000 and 80,000 community members each year through their performances. Based on the success of these troupes, World Education and MOES will increase the number of puppetry troupes to 220 during the current project period to deliver MRE to even more community members and provide an engaging complement to the formal curriculum.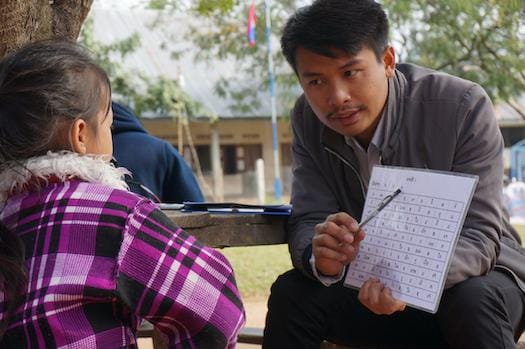 Capacity Building for Early Grade Reading
Start: 01/01/2020 - End:
World Education provides technical advising and project management expertise to build the capacity of a local organization so it is able to lead and effectively monitor the literacy component of the World Food Programme (WFP) Food for Education project in northern Laos. Through workshops, trainings, and coaching, World Education helps the organization conduct Early Grade Reading Assessments (EGRA) and improve its monitoring, evaluation and project management capacity to ensure its ability to carry out activities throughout the duration of its partnership with WFP.